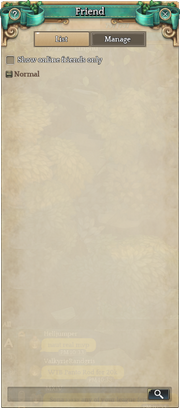 The
Friend List
is a feature that allows players to stay connected with other players in
Tree of Savior
. It lets you see which of your friends are on and notifies you when a friend has logged into the game.
Adding Friends
The default hotkey to access the Friend List is F7. From here, the player can choose to view all friends or check the box to only view online friends.
Clicking on the Manage tab will show all friend requests received, sent, and declined. From here, friend requests can be sent to other players via the "Send Friend Request" button. Alternatively, friends can also be added by right-clicking another player character and picking "Buddy Request" from the pop-up menu.
Blocking Foes
Players have the ability to block other players from making contact with them. Similarly to adding friends, blocking players can be done via the "Block" button on the Manage tab.
Ad blocker interference detected!
Wikia is a free-to-use site that makes money from advertising. We have a modified experience for viewers using ad blockers

Wikia is not accessible if you've made further modifications. Remove the custom ad blocker rule(s) and the page will load as expected.